About
DealerLeads dominates the automotive digital marketing industry with highly used automobile search strings turned into online inventory advertising classified sites, service sites, finance sites etc. Car shoppers have needs, and DealerLeads matches those needs in live searches.
Overall Performance
DealershipNews.com Score: 8.7 /10
Quality of Transparency
8.4
How Likely Would You Be To Recommend
9
Case Studies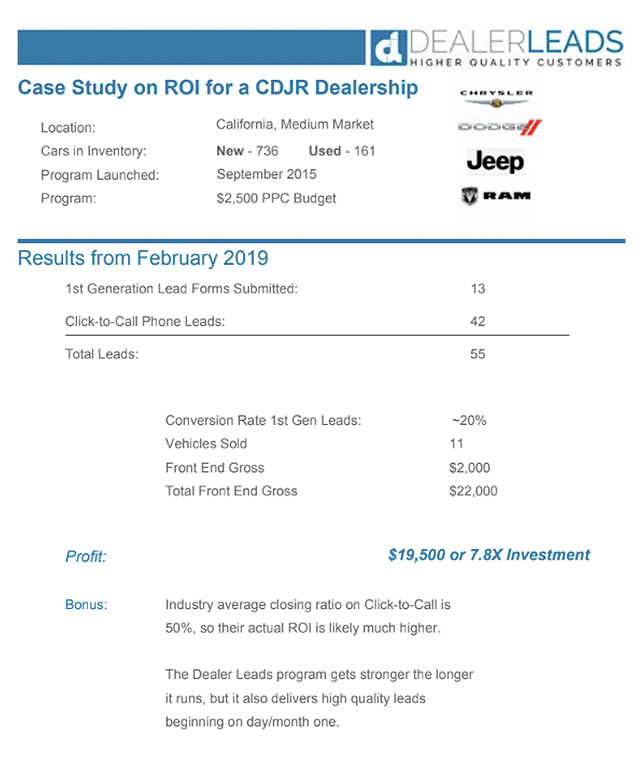 Testimonial
"In our time with Dealer Leads we have seen increased traffic to our website and showroom. Our customers are more informed and more confident in committing to a specific vehicle because of the research pages they created for us. They have a massive quantity of geographically targeted UR Ls that rank on page one of search engines, capturing prospects and directing traffic to our inventory where the shopper converts to a first-generation lead on my website. There's no question about it. If they perform, Google confirms it. We can't duplicate these results because we are 60 miles out of town, so Google favors local businesses in their search results. Our SEO has improved greatly, and we have moved up in ranking since signing. Their turnkey service has provided excellent results.... We highly recommend Dealerleads!"
Ray Niesslen
Internet Marketing Manager, Mildenberger Motors
DealerLeads has been one of our top vendors since we signed up for their program in September 2015. They consistently over-deliver on traffic and what they send to our website is high quality and high converting. DealerLeads is great about calling to check in every month and making changes to their program to help support specials and promotions. They also offer a Bounce Rate Guarantee which I've never seen any other vendor offer. As if this weren't enough, their customer service is top notch. I have an Account Manager that I can call directly for absolutely anything. They even offered us free 1-on-1 Google Analytics training. I know that if I have questions, or need help with something, I can pick up the phone and Tracie or Rick will be there for me. They're an excellent partner.
Jason Scott
Digital Marketing Manager, Crown Chrysler, Dodge, Jeep, RAM
We have been with DealerLead for almost a year now, and would like to thank them for their amazing product/services provided. DealerLeads quickly shot up to be our No. 1 referring vendor within a couple weeks of being on the program, and continues to be our No. 1 vendor. They send highly engaged, low funnel shoppers to our websites. I give them 5 stars, (more if I could) for their customer service/support. DealerLeads is a very low maintenance program. We haven't had to ask for much, but when we do, Tracie and Maggie are on top of it immediately. We see high quality, engaging traffic in our Google Analytics, where it is all tracked. DealerLeads delivered what they say every time and are very knowledgeable in the automotive SEO market. I recommend the DealerLeads program.
Steve McDonough
President, McDonough Toyota